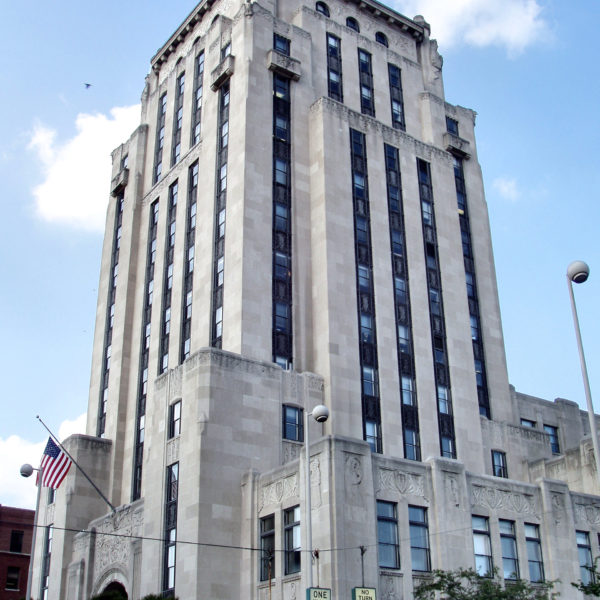 Project Description
Recently, the Hamilton County Juvenile Court facility, the former Times Star Building, located at 800 Broadway Avenue in downtown Cincinnati, was the first government building in Cincinnati, and one of the first three in the State of Ohio, to receive Certification in the LEED's Existing Building: Operations and Maintenance (EB+OM) program. The nineteen story, 355,000 square foot building was originally constructed in 1937 and is on the National Historic Registry. Hamilton County bought the building in 1992 and renovated it to house governmental offices and courtroom spaces. Today, the building has 685 full-time occupants and on average 100 daily visitors. The certification project team included Hamilton County's Facility Department, GBBN Architects, ThermalTech Engineering, and THP Limited, Inc.
Over the years, Hamilton County has been a tireless proponent of sustainable purchasing, energy reduction, and increased ventilation in its buildings. At 800 Broadway, the County has initiated specific sustainable high-performance building operations and maintenance procedures including those for Sustainable Purchasing, Solid Waste Management, Integrated Pest Management, and Green Cleaning. Additional recognition was awarded for reductions in mercury containing lamps, low flush water fixtures, pollution source controls, and an increase in the usage of high-performance cleaning equipment.
Project achievements include:
The building has shown a 28.1% reduction in potable water usage. This reduction has resulted in reducing the buildings usage to 21.16% below the LEED-EBOM baseline.
The building has consistently shown the optimized energy efficiency performance with yearly Energy Star ratings consistently ranking between 86-88 from 2010-2014. The Energy Use Index (EUI) for this building has decreased from 149.6 kBtu/sf to 141.7 kBtu/sf (201-2014). The Greenhouse Gas (GHG) Emissions have reduced from 3445.6 Metric Tons of CO2e to 3051.2 CO2e.
The electrical consumption in this building, since Hamilton County renovated and took occupancy in 1997, is 41% lower as of 2014. The total Kilowatt per Hour saved in this building totals 21,461,044 KWH in the same time period.
The natural gas consumption in this building, since Hamilton County renovated and took occupancy in 1997, is 28% lower as of 2014. The total Centum Cubic Feet (100 cubic feet) saved in this building totals 1,130,222 CCF in the same time period.
A major ASHRAE Level II Energy Audit has been performed during latest round of Energy Conservation measures on the baseline energy use for natural gas, electrical and water systems. This audit resulted in implementations of low or no cost energy efficiency measures including consolidation of server rooms, replacement of old HVAC equipment, lighting retrofits, new VFD's, air balance retro-commissioning and a DDC controls retro-commissioning.
As part of the standard LEED-EBOM practice an "Enhanced Refrigerant Management and Emissions" procedure has been implemented and all CFC's shall be phased out of this building within 5 years.
Sustainable purchasing forms have documented that 96.15% of the ongoing consumables purchased during the performance period qualified as Sustainable Purchasing.
100% of the cleaning products and 100% of the cleaning equipment used in this building have successfully qualified under the required sustainable criteria.
The project was awarded 43 points overall, including three Innovations in Operations credits, and the project qualified for three Regional Priority credits for Plumbing Fixtures, Energy Efficiency, and Occupant Comfort.
Project Details
Client

Hamilton County, OH

Location

Downtown Cincinnati

Industry

Government

Scope of Service

LEED Accreditation